Cancer Center Overview
Kyoto University Cancer Center consists of 5 divisions "Outpatient Cancer Care Division", "Inpatient Cancer Care Division", "Supportive Care Division", "Cancer Education and Training Division" and "Cancer Treatment Innovation Division", and the Palliative Care Center. Medical staff from multiple medical departments and divisions participate in each division and work together in coordination enabling multimodality cancer treatment, clinical innovation, education, and training. To overcome "Cancer", we have established a general hospital with high-quality medical care system to give back to the society by providing standard treatment based on evidence, and also apply the results of important fundamental research conducted at our university to clinical practice. As a university hospital cancer center, the Kyoto University Cancer Center has the following significant characteristics:
In outpatient care, information is shared across departments through "Organ-specific cancer units", and the treatment policy is determined objectively and promptly.
As a general hospital, we meticulously deal with comorbidities and side effects caused by cancer treatment.
As a university, we work on developing top-level research technologies for the medical department and new treatment technologies in collaboration with other departments.
We nurture many cancer specialists and cancer professionals through integrated education at undergraduate and postgraduate levels.
We provide specialized palliative care.
Outpatient Cancer Care Division
The characteristic of the outpatient clinic of this cancer center is that the treatment policy is decided through "Organ-specific cancer units" where physicians, surgeons, and radiotherapists who specialize in a particular type of cancer, or diagnostic pathologists, diagnostic radiographers, and various medical staff meet and examine the cases. Therefore, for all patients who come to the hospital, the treatment policy is finally decided after examination by many specialists and not by the decision of individual doctors so that the best medical care can be provided. In the previous system where each department and each doctor used to conduct medical examination individually, there was a risk that there may be a difference in the suggested treatment policy depending on the department, and may confuse the patient and patient's family as there is no sharing of information, and there was a risk that a different treatment may be provided depending on the department in charge. Besides, this system required coordination and transfer between departments when deciding the treatment policy and implementing the treatment, due to which there used to be a delay in starting the actual treatment. In our outpatient clinic, multiple specialists and various medical staff can share information of individual patients and medical information through "Organ-specific cancer units" which enables an objective and prompt decision of treatment policy and to provide high-quality treatment. These units can be expected to have a significant impact on training specialists and specialized staff and can significantly contribute to improving the quality of medical personnel for providing better medical care.
Treatment policy is not dependent on a single medical department
Prompt decisions
Close coordination between multiple medical departments
Training personnel involved with cancer treatment
What is a Unit?
Multiple specialists such as physicians, surgeons, and radiotherapists come together to provide objective and prompt decision on treatment policy in close cooperation transcending departmental boundaries and take responsibility as the cancer board of Kyoto University Hospital Cancer Center. Discussions are held on patients who need to be examined with a focus on new patients before deciding the treatment policy. At the outpatient clinic of our cancer center, the treatment course is suggested based on the results from the units.
Outpatient Unit
Our current outpatient units are for esophageal cancer and pancreatic cancer. In the outpatient units, patients are directed to an "Organ-specific cancer unit" from the first visit, and a thorough study is carried out in the unit on the same day of consultation. When selecting a treatment, patients can also ask for explanations from multiple specialists, and this significantly benefits patients as they can choose a treatment without undue worries.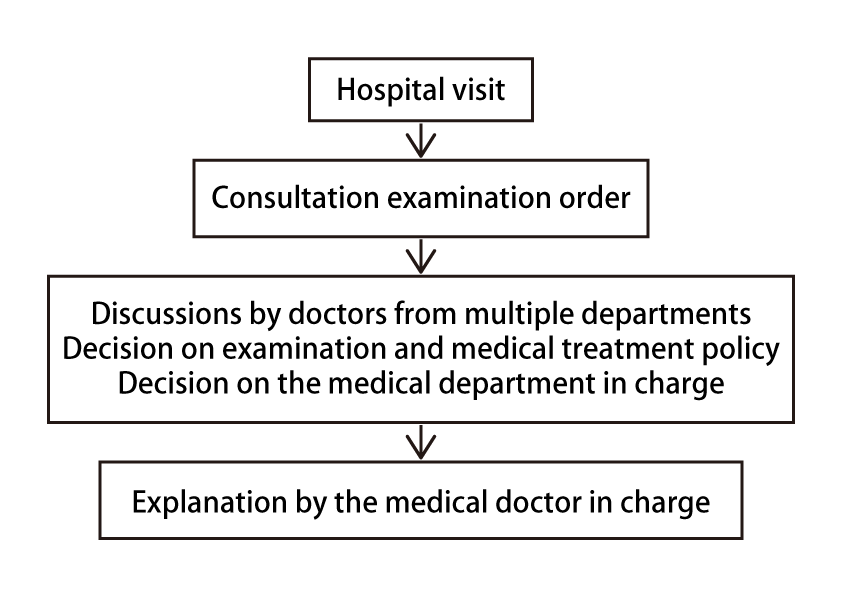 For outpatient doctor chart, Click here
Palliative Care Center Medical Care Guide
The Palliative Care Center brings together the palliative care team and palliative care outpatient clinic to provide patients relief from various symptoms including pain, provide psychological counselling, support to make decisions, coordinate with sanitoriums, assistance to families, and help in dealing with multiple problems in the terminal stage, and support health care providers, etc.
Palliative Care Team
The palliative care team is a multi-disciplinary medical team whose purpose is to alleviate pain, nausea, breathlessness, sleeplessness, and depression of cancer patients. Regardless of a patient's disease stage, specialists such as doctors, nurses, pharmacists, and social workers cooperate to assist the hospitalized patients.
Outpatient Palliative Care Clinic
The outpatient palliative care clinic is a specialized clinic aimed at alleviating various physical and psychiatric symptoms in patients undergoing cancer treatment. This service is available for patients who are undergoing treatment at our hospital. Please consult your outpatient physician for availing the service.
Medical Cancer Hospital – Information on Hospitalized Cancer Treatment
In Kyoto University Hospital, the ground and first floors of the new building (Sekitei building) that opened in May 2010 are designated as "Kyoto University Cancer Center" with outpatient cancer care division on the ground floor, and inpatient cancer care division on the first floor. The inpatient cancer care division provides various treatments such as radiation therapy, chemotherapy, surgical treatment, and endoscopic treatment, and conducts medical examinations as a specialized ward (multimodality cancer treatment ward) practicing "Multimodality cancer treatment" transcending the boundaries of academics. Though the focus of cancer treatment on outpatient treatment, when the condition of patients suddenly deteriorates after treatment or cases with complications, close cooperation between inpatient and outpatient cancer care divisions is necessary. To practice modern cancer treatment which is highly specialized, a team with specialized staff from every field who are experts in cancer care to treat cancer patients collectively is indispensable. At the "Multimodality cancer treatment ward" of Kyoto University Cancer Center, the goal of all staff including doctors, nurses, and pharmacists is to provide ideal cancer treatment and practice patient-focused cancer care in cooperation with outpatient cancer care division.
Access
Access to Kyoto University Hospital Click here for information on access to Kyoto University Hospital. Access to outpatient medical care wing of the cancer center